The Finger
Description
The Finger will have you laughing for hours! Launch The Finger on an unsuspecting user and watch their reaction when the cursor changes to the middle finger and then back to normal again. By default The Finger runs hidden in Windows and will switch the mouse cursor to a finger every 5 seconds, but you can configure how often the cursor will change by passing the word "setup" on the command line. To stop The Finger from changing the mouse cursor, simply move the mouse cursor to the top left corner of the screen and it will restore your mouse cursor and close.
This is a must have joke program for the serious prankster.
Screen shots
Click on an image for more detail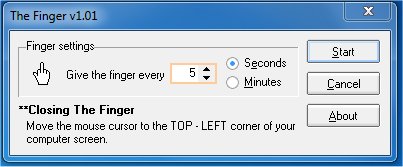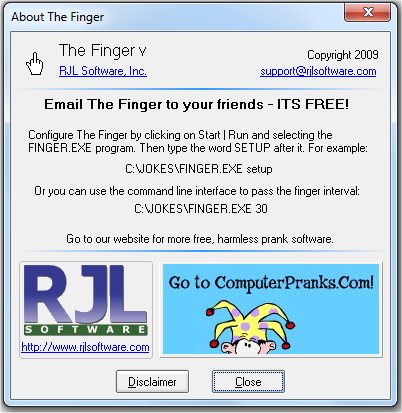 Command line Options
Pass the word SETUP on the command line to configure this program yourself.
For example: "C:\MY STUFF\FINGER.EXE" setup
You can also use the command line interface to specify the number of seconds of delay between each flash of the finger. For example:
"C:\MY STUFF\FINGER.EXE" 30
This would pause 30 seconds between each flip of the normal cursor and the finger.
Not sure what a command line is or how to use it? Read our detailed explanation here.
How to close
Move your mouse pointer to the TOP LEFT corner of your screen. This will stop the program from running in memory. If you have successfully moved your mouse in the correct position, the program will close and display an About Box Screen. Once you close this screen, the program will exit. Exiting the software will allow Windows to delete the file.
Download The Finger
The Finger zipped - 271K
Like this software? Donate $1.00
Windows Support
The Finger will run on these Windows editions:


Win7Vista2008XP20032000NTME9895