MouseClicks
Description
MouseClicks is a harmless gag program that allows you to disable the left, right or both mouse clicks every x seconds. That means you could run this on your boss and disable the LEFT mouse click every 30 seconds and he would think that his mouse is broken!
MouseClicks is free and completely harmless. Download MouseClicks today and start having fun with your friends.
Screen shots
Click on an image for more detail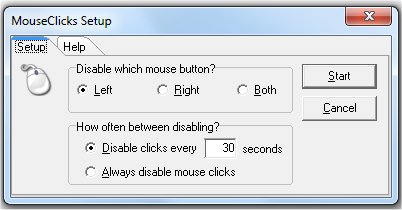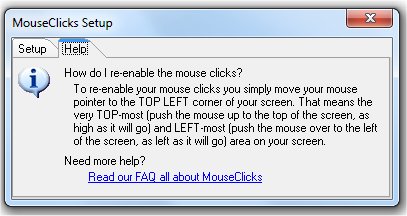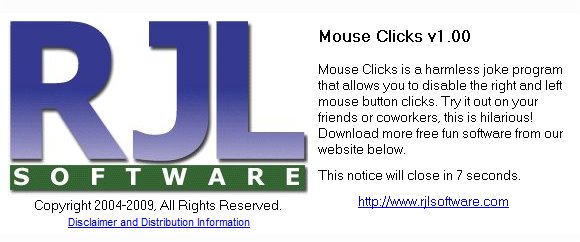 Command line Options
You can bypass the MyClicks setup user interface by passing the correct command line options to the program. The format of the options are:
mouseclicks.exe [left,right,both] [seconds between disable]
For example:
"C:\My Stuff\mouseclicks.exe" left 30
Not sure what a command line is or how to use it? Read our detailed explanation here.
How to close
Move your mouse pointer to the TOP LEFT corner of your screen. This will stop the program from running in memory. If you have successfully moved your mouse in the correct position, the program will close and display an About Box Screen. Once you close this screen, the program will exit. Exiting the software will allow Windows to delete the file.
Download MouseClicks
MouseClicks zipped - 347K
Like this software? Donate $1.00
Windows Support
MouseClicks will run on these Windows editions:


Win7Vista2008XP20032000NTME9895